Quad City Pet Care Mobile Vet
We are happy to introduce the QCPC Mobile Veterinary Clinic. Our new mobile veterinary house call service brings personalized, professional, veterinary care to your door. Our van is equipped to provide care to multiple pet families, pets that are stressed by the ride to the traditional clinic, and pet owners who prefer the convenience of a home visit.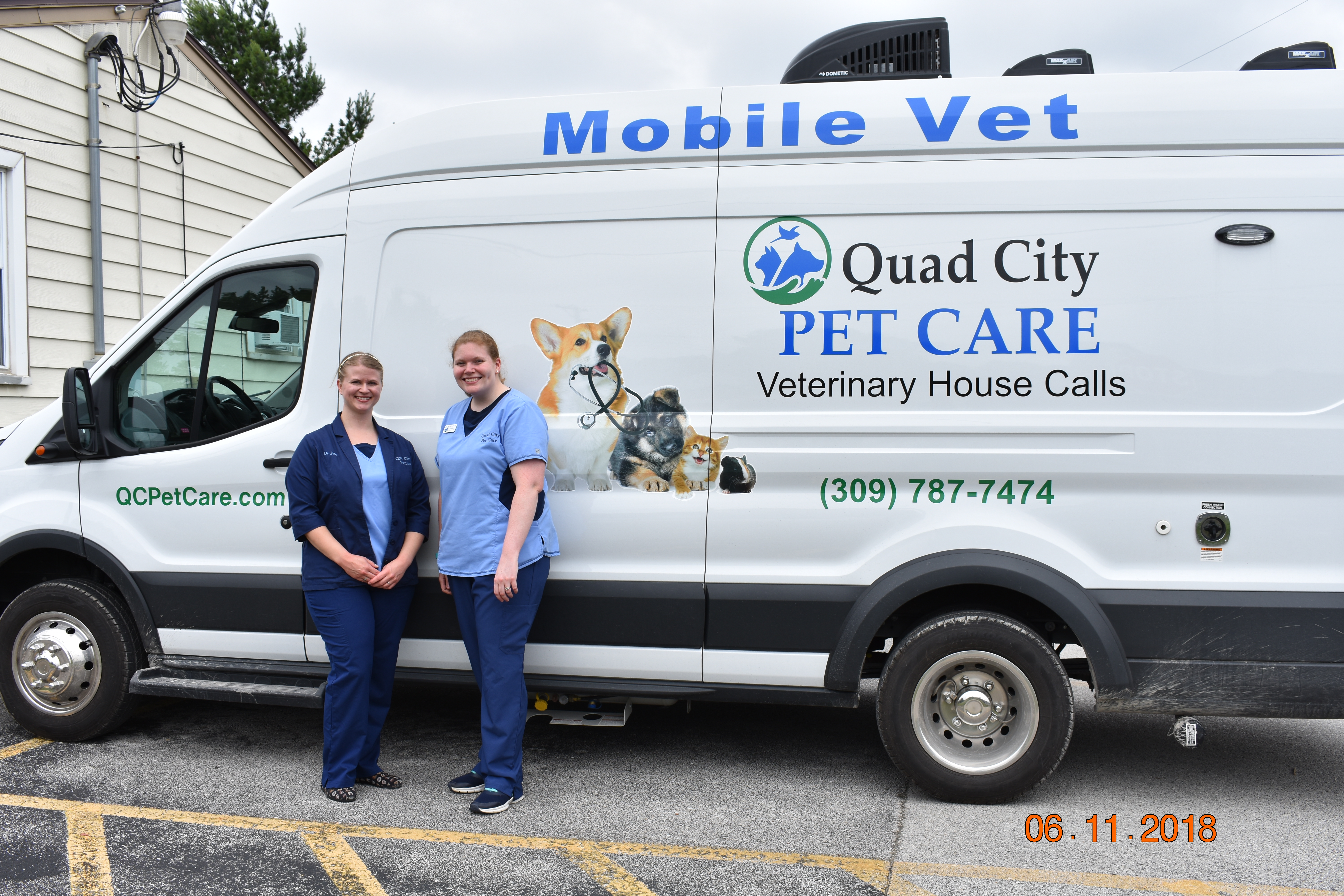 Where We Serve
QCPC Mobile vet serves the Iowa and Illinois Quad Cities, including Davenport, Bettendorf, Rock Island and Moline, and the surrounding communities of Scott and Henry Counties.
Call 309-787-7474 to schedule an appointment
Click Here To Download PDF Intake Form
Services Provided:
Preventive Care Examination
Kitten and Puppy Health Care
Senior Pet Care
Personalized Vaccination Programs
Nail Trims
Ear Cleaning
Dermatology
Anal Gland Expression
Administraion/Application of parasite prevention
Neurological Evaluations
Weight Management Counseling
Internal Parasite Testing and Treatment
Hospice Care
Home Euthanasia and Cremation Services
Microchip Placement
Health Certificate for Travel or Sale
Estimates for costs for additional care/procedures, if needed
---
Policies
Appointments - The Mobile Vet patients are seen by appointment only. Appointments are made by calling (309)787-7474. We will schedule appointments in a window of time (for example, 1:00 – 1:15). If we are running early or late, we will call and let you know as much in advance as possible.
Please have your pet accessible at the time of the visit. Some pets are notorious for hiding when the Veterinarian is on the way.
Payment - Payment is due when services are rendered.
We accept Visa, Mastercard, Discover, Care Credit, checks or cash. Additional charges will apply to returned checks.
Travel Fee - The travel fee is the fee charged to make the house call. The amount of this fee will vary depending upon the distance the mobile vet will travel. It will vary from $25 - $75. This non-refundable fee is collected at the time the appointment is scheduled with our Client Services Representative at (309)787-7474.
We accept Mastercard, Visa , Discover and Care Credit.